Baker's Mobile Aire History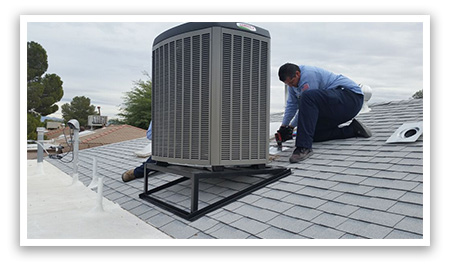 In 1971, after working for Pima County facility maintenance and some air conditioning supply houses, Jerry Baker saw there would be a lucrative market in mobile home heating, air conditioning and service. One year later, Baker's Mobile Aire incorporated and encompassed regular residential homes and light commercial buildings; hence, "Since 1972."
Jerry Baker has air conditioned and heated thousands of homes and offices since that time. He trained many people in the business of air conditioning, heating and electric, Including his son. In 1995 Jerry's son Todd joined the business full time and is now continuing the tradition of excellence that his father began so many years ago.
Baker's Mobile Aire is truly family owned and operated since 1972. Perhaps you've been in or visited some of the places we've installed or service regularly:
•Hughes Aircraft (now Raytheon,) lunch building
•Davis Monthan Air Force Base remodeling
•Bear Down Gym remodeling at the University of Arizona
•Pima County Library in Catalina
•Holy Family Church, Tucson
•Desert House Of Prayer
•Marios Pizza
•Boondocks Bar & Lounge (Tucson)
•Cochise County Jail
•Arizona Department Of Environmental Quality
•Numerous custom homes and retrofits. (Could be your friend or relative!)
•Installations for Sears equipment over 18 years
We know that what keeps our customer's on cloud nine (over 13,000 happy customers,) our commitment to value, quality and craftsmanship. Through our experience, and expertise, Baker's Mobile Aire, Inc. has established relationships with our customers that truly have lasted lifetimes!
Office Address
3149 E 47th St
Tucson, AZ 85713
Hours
Monday – Friday:
8am to 5pm
Contact Us
Phone: (520) 623-5449
Email: mail@bakersair.com
Baker's Mobile Aire – Air Conditioning and Heating Specialist
You can save money and become more energy efficient with the right heating and cooling system. Air conditioning Tucson for over 42 years, Baker's Mobile Aire can help you with heating, cooling, air conditioning, evaporative cooling, dryer vent cleaning, duct cleaning, and all your HVAC needs.